The days are long....but the years are short.
I can speak to the world through Facebook. Wouldn't it be great if I had something worthwhile to say? Oh well. Here's a picture of my cat.
Beginning to regret not ever reading a book. Pretty sure that sentiment will go away soon.
The Donald is campaigning now on sending back to Syria 200,000 potential immigrants, thinking somehow that would help our world standing and bring about peace. He may be the best example of what bad can happen when you build a country full of immigrants.
==================
==================================
=============
==================
==================
=============
==================
==================
How to fight modern-day debtors prisons? Sue the cities and companies that enable them.
Our Alysia Santo speaks with Alec Karakatsanis about his new civil rights group's latest crusade — a court fight against a Tennessee city and the private company it contracts with to collect debts. The lawsuit is the latest in a string of cases brought by the Washington, D.C. lawyer and his organization, "Equal Justice Under Law."
THE MARSHALL PROJECT
=============
==================
==================
In Texas, Injured Workers Struggle to Be Counted
, by
Jim Malewitz – On any given day across Texas, truck drivers might crash their vehicles, construction workers tumble from scaffolding or refinery workers inhale nauseating fumes. Many of those injuries will go unreported — as if they never happened. But what is written down about workplace injuries is more than just scorekeeping.
================
================
======================
==================
==================================
=============
==================
==================
Posted: 01 Oct 2015 02:59 PM PDT
A high-ranking Baltimore cop shot a man after the man pulled a pink container of lip balm out of his pocket – making him fear for his life – before turning to the man's brother and threatening to shoot him too.
"I got a bullet for you too," Baltimore Police Major Byron Conaway told the man's brother while standing over the man he had just shot.
Neither man was armed.
The incident took place Monday as John Rau was standing on a sidewalk with friends and family and was confronted by Conoway, who demanded to know what he had in his pocket.
"He said, 'What do you got in your pocket?' My brother clearly stated 'Officer I only have a Chapstick, I only have a Chapstick.'" Birmingham recounts.

In fact Rau was unarmed that night, but witnesses say he was shot by the officer as he pulled his hand out of his pocket holding a small Chapstick.

"He missed my brother's artery by so much over that," said Birmingham. "There's no way you can mistake this for a weapon."
Conoway, a 16-year veteran of the department, was sued by a citizen for police abuse, resulting in the department paying a man $67,500, according to the
Baltimore Sun.
He also received a departmental award for saving a woman in 2009.
Conaway was involved in a departmental shooting in 2009 when he was still an officer. A woman slipped him a note that said she was in danger. Conaway saw the man who had been in a car with her reach for a handgun, and shot him. The man survived and in August 2010 was sentenced to 15 years in federal prison for being a felon in possession of a handgun.
As of now, he is on paid administrative leave as police investigate the incident. Police have not said much about the shooting other than blaming Rau for not showing Conoway his hands.
But he obviously did not have a reasonable suspicion that he was committing a crime or else that would have been mentioned by now.
==================
==================================
=============
==================
==================
Heather
=============
==================
==================
DPS Chief Calls Harassment Claims "Garbage"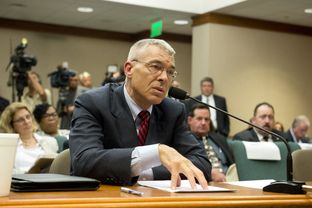 LAREDO — Claims that state troopers are harassing residents along the border are "garbage," the director of the Texas Department of Public Safety said Thursday.
"That's garbage, that's the bottom line," DPS Director Steve McCraw said of accusations that troopers sent to the Rio Grande Valley as part of the state's border surge of law enforcement are doing nothing more than pulling over people for traffic violations and mistreating them.
"Anybody has a complaint about how a trooper has treated them at any given time, we want to know about it because we'll certainly investigate it," he told reporters during a meeting of the Texas Border Coalition, an advocacy group composed of elected officials and community and business leaders from the Texas-Mexico border. "If they're treated without respect, we will address it case by case and we've got the video to prove it."
McCraw's comments came after some TBC members expressed concerns about the $800 million the Texas Legislature allocated last session for an unprecedented buildup of state law enforcement along the border.
"Our members question the $800 million to the department. We don't believe in making assumptions, we believe on making decisions based off of empirical data," said Monica Weisberg-Stewart, chairwoman of the coalition's immigration and border security subcommittee. "We know for a fact that people are (being harassed) and being pulled over. So then the question is 'How does that really help border security, what's the big picture here?'"
The DPS effort has largely been confined to the Rio Grande Valley in Starr and Hidalgo counties. But McCraw said the effort could expand based on need, which would involve input from local law enforcement agencies.
The border surge began last summer after tens of thousands of undocumented immigrants entered Texas illegally through the Rio Grande Valley. It was subsequently expanded and the effort codified when the Legislature approved the record border-security budget that kicked in September 1.
McCraw didn't offer many specifics on what the agency has accomplished in the first month, but said efforts were underway to meet long-term goals.
"Our detection capacity is up. We have 81 new troopers that have been assigned in South Texas and West Texas," he said. "In terms of numbers of apprehensions and drugs and all those things our focus has been – and our guidance has been — to increase detection capacity and do it zone by zone. We are already making inroads on that."
Weisberg-Stewart said she wasn't dismissing the effort completely and acknowledged it was in its early stages. But she said she expected the investment to yield positive results. If not it would be another example of Austin and Washington putting the "cart before the horse," she said.
'The devil is in the details and at this point, the empirical data is not showing us (the need)," she said. "I am not being a skeptic. I am just a realist and I believe in being proactive and not reactive."
She also said the Legislature made a mistake when it
declined to fund
a Carrizo cane eradication project to rid the border of an invasive plant species that provides cover for smugglers. She said that has been on the TBC's wish list for 10 years.
"(Gov.
Greg Abbott
) should put that money towards something that will actually assist the federal government," she said.
Abbott included funding for the project in his proposed budget but the Senate Finance Committee declined to make the appropriation.
McCraw declined to comment on why the effort wasn't funded, but said that money could always be allocated for the cane removal later.
"There could be a request to the [Legislative Budget Board] that allows to allocate some funding to do that," he said.
=============
==================
==================
Heather in Sealy
=============
==================
==================
================
================
======================
========