What happened to all our role models? Paris Hilton where are you?
=======================================================
My friend Dan Beto on the right
=================================================
Well they probably can't do as thorough a job as Bush
deleted MILLIONS of emails.
Shocking new report: Bombing people causes people to hate you
========================================
This is why blogging may end in America. It starts this way: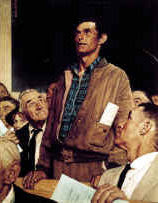 There is another arrest in England for criminal speech, a crime that is on the rise in the West to censor and punish those who are deemed hateful or insulting in their views. The latest arrestee is
reported to be Matthew Doyle, 46, a partner at a London PR agency
. He was arrested after tweeting about how he asked a Muslim woman to "explain" the terror attacks in Brussels. It was a stupid and insulting act, in my view. Moreover, Doyle reportedly used some slur for Muslims in later postings. However, none of that justifies criminalizing speech and the arrest shows the increasing appetite in England (and the West) for rolling back on free speech. Indeed, we
recently discussed the Obama Administration's threats of prosecution for those who speak in ways deemed misleading or hateful.
Yeah, they listen:
The number of federal and state wiretaps terminated in 2015 increased nearly 17 percent over 2014, according to an annual report submitted to Congress by the Administrative Office of the U.S. Courts. As in previous years, drug investigations and telephone wiretaps accounted for the large majority of cases.
The 2015 Wiretap Report
covers intercepts—of wire, oral or electronic communications—that were concluded between January 1, 2015, and December 31, 2015.
Read more
.
heather