I prefer a man who will burn the flag and then wrap
himself in the Constitution to a man who will burn
the Constitution and then wrap himself in the flag.
- Craig Washington
Ok. Ok. I admit that I don't have all the answers. I already told you I did not graduate from Trump University so I couldn't possibly be as smart and as rich as you. What else do you want from me?
Getting an hour of private Photoshop lessons today. I'm looking forward to it. I'm sure everyone I've ever shot is happy about it too.
======================================================
Aug 16, 2016, 3:28 pm CDT
Trump Casinos' Tax Debt Was $30 Million. Then Christie Took Office.
By RUSS BUETTNER
Under Gov. Chris Christie, New Jersey agreed to accept just $5 million in the bankruptcy cases of casinos founded by his friend Donald J. Trump, raising questions of special treatment.
Pennsylvania Attorney General Quits on Heels of Perjury Conviction
By MICHAEL WINES and JESS BIDGOOD
Kathleen G. Kane, once one of the state's most promising politicians, said she would resign after being convicted of perjury, conspiracy and other charges.
by John Reynolds |
Aug. 17, 2016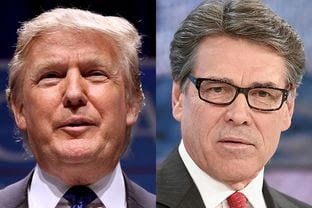 The Big Conversation
Former Gov.
Rick Perry
inserted himself
Tuesday
into the ongoing controversy over
Donald Trump
's handling of criticism from the father of a fallen Muslim soldier, saying the father was to blame for speaking at the Democratic National Convention.
Speaking on CNN, Perry said the father should have expected some reaction to his words. "In a campaign, if you're going to go out and think that you can take a shot at somebody and not have incoming coming back at you, shame on you,"
Perry said
.
While politicians from both sides of the aisle took Trump to task for criticizing the family of
Khizr Khan
, Perry
made clear he was backing Trump
. Speaking of Khan, Perry said, "Why in the world that he thought he was going to get a free ride with that is beyond me. He shouldn't get a free ride when he's going to inject himself into the political arena."
===========================================================
RELIGIOUS LAW
8THEIST vanity license plates allowed under lawsuit settlement
POSTED AUG 16, 2016 10:31 AM CDT
---
Feminists and atheists in New Jersey will be allowed to proclaim their affiliations on vanity license plates as a result of a lawsuit settlement.
The settlement, announced last Friday, allows plaintiff Shannon Morgan to pay for a vanity plate that reads, "8THEIST," report the
Associated Press
,
NJ.com
and the
New York Times
. S
he will also receive $75,000 for legal fees.
Morgan's suit
had contended
the state violated her First Amendment rights when it refused her request for the license plate. The denial had said the plate "may carry connotations offensive to good taste and decency." Morgan then applied for the plate "BAPTIST" and it was accepted.
The settlement also allows vanity plates that read: SECULAR, RATIONL, HUMANST, ATHEISM, GODLESS, HEATHEN, HERETIC, SKEPTIC, BLASFMR, REASON, EVOLVE, TRANS, LGBTR.TS, LGBTQ, PRIDE, QUEER, GAYPOWR, LGBTALY, FEMINISM, FEMINST, EQUALITY and 4WOMEN. Substantially similar plates will also be allowed.
Morgan was represented by Americans United for Separation of Church and State.
A spokeswoman for the New Jersey Motor Vehicle Commission said denial of the license plate "was an oversight that was corrected immediately."
=====================================================================
=======================================================
In order to settle the wrongful death lawsuit filed by Gurley's family, Liang has agreed to pay $25,000 to Kimberly Ballinger, the mother of Gurley's young daughter Akaila.
After an NYPD officer accidentally killed an innocent, unarmed man inside a dark housing project stairwell, the city and the New York City Housing Authority have recently agreed to pay Akai Gurley's family more than $4.1 million to settle their wrongful death lawsuit. Although the officer was fired and initially convicted of manslaughter, a judge reduced the charge and sentenced him to community service instead of serving jail time.
On
November 20
, NYPD officers Peter Liang and Shaun Landau were conducting
vertical patrols
on the eighth floor of the Louis H. Pink housing project in Brooklyn. Although Deputy Inspector Miguel Iglesias had ordered them not to conduct vertical patrols inside the building, Liang reportedly opened the door accessing the stairwell with the same hand holding his Glock .9mm pistol. Instead of opening the door with his right hand which held his flashlight, Liang claims that he accidentally fired a shot that ricocheted off the wall and into Gurley's chest.
"They didn't identify themselves," recalled Gurley's girlfriend, Melissa Butler. "No nothing. They didn't give no explanation. They just pulled a gun and shot him in the chest."
Standing on the floor below the officers, Gurley staggered down to the fifth floor where he collapsed. Butler ran to an apartment to ask for help and called 911. As the operator instructed Butler to administer first aid until the paramedics arrived, Liang and Landau remained upstairs texting their
union rep
instead of calling in the shooting or offering assistance.
Convicted of manslaughter by a Brooklyn jury, Liang was subsequently fired from the department. After Supreme Court Justice Danny Chun reduced the charge to
criminally negligent homicide
, Liang was sentenced to 800 hours of community service instead of jail.
In order to settle the wrongful death lawsuit filed by Gurley's family, Liang has agreed to pay $25,000 to Kimberly Ballinger, the mother of Gurley's young daughter Akaila. The city will pay $4.1 million, while the New York City Housing Authority has agreed to pay $400,000 to his family.
Last year, the city agreed to pay $5.9 million to the family of Eric Garner after NYPD Officer Daniel Pantaleo was caught on video placing Garner in a banned chokehold while ignoring his pleas that he could not breathe. Although the city decided to settle the family's wrongful death lawsuit, Pantaleo currently does not face criminal charges for causing Garner's death and remains on the force.
===========================================================


Save 20% through August 31 by using the code

ISO20

at checkout

Whether you're an aspiring photographer, a seasoned professional, or just interested in learning more about the way cameras work, HCP offers classes and workshops for all ages and levels of experience - including beginners:




Our complete listing of classes for Fall 2016 includes:
| | | |
| --- | --- | --- |
| | | |
| Composition I: From Good to Great | After Dark: Photographing at Night | Alternative Printing: Cyanotypes |
| Intro to Photoshop Elements | Alternative Printing: Transfer | Lightroom III: Self-Publishing with Blurb |
| Lightroom I: Beginning Your Workflow | Architecture Photography: Shooting Space | Photography III: Experimenting with your Camera |
| Out of the Box: Using Your Digital Camera | Bird & Wildlife Photography | Photoshop III: Retouching Your Photographs |
| Phoneography | Building Your Photo Website | Presenting Your Work: Creating a Body of Work |
| Photography I: Learning the Basics | Composition II: Finding Your Vision | Presenting Your Work: Getting Your Work Out There |
| Printing Your Photographs I | Finding Funding for Artists | Printing Your Photographs III: Print Like a Pro |
| The Seeing, Not the Taking | History of Photography: 19th Century | Processing Multiple Images |
| Using Your Flash | History of Photography: 20th & 21st Century | The Art of Self-Portraiture |
| | Landscape Photography | Video I: Creating with Premiere |
| | Lighting in Photography | |
| | Lightroom II: Sharing Your Photographs | |
| | Natural Light Portraiture | |
| | Painting with Light | |
| | Photographing Families | |
| | Photography II: Beyond the Basics | |
| | Photojournalism | |
| | Photoshop I: Getting Started | |
| | Photoshop II: Working with Layers | |
| | Presenting Your Work: Building Your Portfolio | |
| | Presenting Your Work: Matting & Framing | |
| | Printing Your Photographs II: Getting the Color Right | |
| | Street Photography | |
| | Words & Images | |
FOR THE COMPLETE SCHEDULE AND TO REGISTER CLICK HERE
Not an HCP member?
Become one today
and always save an

additional

20% on all classes!
==========================================================
Auto correct will fight you tooth and nail if you try to type this into your phone:
===========================================================



Put an end to abusive private prisons




Please note: If you forward or distribute, the links will open a page with your information filled in.




Hi Roland,

Private prisons are so unsafe they are sometimes deadly. They cut costs by failing to hire proper medical staff, throwing new prisoners straight into solitary for lack of space, and delaying transferring prisoners in need of urgent care to hospitals.

Private prisons are causing preventable prisoner deaths – from untreated cancer, untreated HIV, suicide, and heart attacks and seizures. Yet the government refuses to shut them down and continues to pour millions of taxpayer dollars into these prisons that are motivated by one thing: profit.

We must put a stop to the grave abuses of private prisons.

A newly-released report from the U.S. Department of Justice details alarming abuse inside private prisons. Appalling medical neglect and inadequate oversight by the Federal Bureau of Prisons mean those in private prisons don't have basic access to health and safety.

Most of the recent findings come from immigrant-only prisons. Non-U.S. citizens, most of whom are deemed low security risk, are held in "Criminal Alien Requirement" prisons rife with reckless, unchecked abuse. The vast majority of the men in CAR prisons are serving sentences for non-violent drug offenses or simply for crossing the border.

The report shows significantly higher levels of violence in these prisons compared to bureau-run prisons. Inspected facilities used lockdowns nine times more than comparable public prisons. And in two out of three, all new prisoners were housed in solitary – a brutal form of punishment – simply because there weren't enough beds.

The inspector general's report is one of many exposés in recent years that reveal the terrible conditions of CAR prisons. It's time for the White House to expedite shutting them down.

Private prisons have a long legacy of abuse, neglect, and corruption. Private prison entrepreneur Tom Beasley described his efforts in the early 1980s, saying, "You just sell [prisons] like you were selling cars, or real estate, or hamburgers. To make a quick buck, he hastily converted a Houston motel to detain immigrants."

In the decades since, evidence of these for-profit prisons' inhumane practices has exponentially increased.

Tell the government there's no excuse for abusive private prisons in our criminal justice system.

Thank you for taking action,
Anthony for the ACLU Action team
===================================================
Not many people they can brag to about working hard except to themselves.
The other 300,000,000 Americans would laugh at them.
Texas Court Room
=============================================================
==========================================
==============================================
Personal thank you from famous Jeweler to Ivanka
=============================================