Definition of Aleppo: a noun meaning end of campaign.
Ooops
I'm feeling good these days. Very patriotic. I just realized I've sacrificed as much for my country as the Republican candidate for President. Zilch.
Trump exceeds historical political record of never backing off from anything he has EVER said. Quiet an unusual human being.
======================================================
He has no criminal record. He is an internationally followed author and human rights activists. He is also the former British British ambassador to Uzbekistan with 30 years of diplomatic experience. However, Craig Murray has reported that he was denied entry into the United States by the State Department when he was traveling to serve as Master of Ceremonies at an award ceremony honoring John Kiriakou, the CIA torture whistleblower.
=============================================================
Updated 10:23 pm, Wednesday, September 7, 2016
New camera equipment at the Harris County jail has provided the visual information for Sheriff Ron Hickman to suspend three employees for "punching" and other force during an altercation this week with an inmate.
The county's top lawman offered details of the incident and an internal investigation Wednesday morning at a news conference.
According to authorities, inmate Jerome Bartee, 28, assaulted a detention officer at about 7:30 p.m. Sept. 4 in the medical clinic of the 1200 Baker Street lockup. Several staff members responded to the struggle to subdue the inmate.
"We feel that that part of it was not done properly," Hickman said. "We feel there was punching involved that was not necessary."
A supervisor de-escalated the encounter, which the sheriff described as an "unnecessary application of force."
Bartee was treated at a local hospital for lacerations to his face, which was the reason he was in the jail's clinic. According to the Harris County District Clerk's office, he faces one count of assault on a public servant filed Sept. 4.
Bartee had been in the jail after a Saturday night arrest on a cocaine possession charge and one count of being a felon in possession of a weapon. He was released Wednesday night after posting $10,000 bond, court records show.
The Harris County Sheriff's Office conducted an internal affairs investigation into the altercation and turned over evidence to the Harris County District Attorney's Office for potential review by a grand jury.
Hickman said he is not releasing the footage because he does not want to "compromise" the DA's investigation.
The sheriff touted a recent $5 million high-definition video camera equipment upgrade in Harris County lockups as part of his effort to reform the jail, which has been long criticized for inmate mistreatment.
"This single tool is what made this investigation swift and decisive," Hickman said. "We've been very hopeful that this helps change the culture in the jail on both sides. ... It will also hold our people accountable – when you know you're being videoed by that eye in the sky."
=======================================================
We have previously discussed the alarming rollback on
free speech rights in the West
, particularly in France (
here
and
here
and
here
and
here
and
here
and
here
) and England (
here
and
here
and
here
and
here
and
here
and
here
and
here
and
here
and
here
and
here
). Much of this trend is tied to the expansion of hate speech and non-discrimination laws. We have seen comedians targeted with such court orders under this expanding and worrisome trend. (
here
and
here
). The roots of these laws can be traced in part to the post-World War German law banning symbols and terms from Nazi Germany. None of the criminalization has stopped the rise of neo-Nazi groups of course. However, it does put the German government in the position of constantly prosecuting ridiculous cases. The latest is a pub owner who displayed four bottles with the picture of Hitler and one showing a Nazi salute.
==================================================================
by Alex Samuels |
Sept. 9, 2016
The Big Conversation
University of Texas System Chancellor Bill McRaven hopes his athletes don't get any ideas from San Francisco 49ers quarterback Colin Kaepernick, who remained seated or took a knee during the National Anthem at recent football games.
On Aug. 29, the former admiral issued a memo addressed to the presidents and athletic directors of the eight universities in the UT System, implying that athletes who refuse to stand for the national anthem are disrespectful. He writes, "While no one should be compelled to stand, they should recognize that by sitting in protest to the flag they are disrespecting everyone who sacrificed to make this country what it is today — as imperfect as it might be."
As the Tribune's
Matthew Watkins
reports
, this is not the first time McRaven has encouraged both athletes and coaches to honor the flag before sporting events. In
January
, he sent a similar memorandum asking coaches and players "to stand up straight when the National Anthem is played; to face the flag and place their hand over their heart as a sign of respect to the nation." While his newest memo doesn't mention Kaepernick directly, the statement was issued three days after the quarterback's initial protest.
"I am not going to stand up to show pride in a flag for a country that oppresses black people and people of color," Kaepernick said,
according to NFL.com
. "To me, this is bigger than football and it would be selfish on my part to look the other way. There are bodies in the street and people getting paid leave and getting away with murder."
========================================================
Irenka, from Bulgaria, but a brand new nationalized American.
============================================================
==============================================================
We
previously discussed
the controversy over the FBI granting immunity to former State Department staffer, Bryan Pagliano, who set up a server in Mrs. Clinton's home in Chappaqua, N.Y., and worked for her at the State Department. Pagliano
had refused to cooperate after invoking his Fifth Amendment right against self-incrimination
. He was an obvious target of potential criminal charges if he knew that the server was meant to circumvent federal laws, including the mishandling of classified information. The granting of immunity removed the threat for his cooperation, a leverage often used to implication others who may be higher up in the chain of command. Now, as the record appears to confirm that email records were
knowingly destroyed after the issuing of a congressional subpoena to preserve such record
, it also appears that the Justice Department gave immunity to the other person most at risk of a criminal charge -- and the person some are likely to argue would have been the most likely to be able to implicate others. He is computer specialist, Paul Combetta.
===================================================================
Sep 8, 2016, 3:03 pm CDT
CRIMINAL JUSTICE
Judge tosses charges against pharmacy chain owner, says prosecutors' actions 'shock the conscience'
POSTED SEP 09, 2016 07:00 AM CDT
---
A federal judge in Maryland blasted prosecutors for actions that "shock the conscience" when he dismissed fraud charges last week against the owner of a pharmacy chain.
U.S. District Judge George Russell III accused prosecutors of allowing the destruction of evidence, failing to turn over evidence, and presenting false evidence in the original trial of Reddy Annappareddy, the Baltimore Sun reports in stories
here
and
here
. The transcript, posted by the
White Collar Crime Prof Blog
, is
here
(PDF).
Annappareddy was convicted in his first trial based on accusations that he defrauded Medicare and private insurers by billing for prescription refills never requested for customers. The conviction had already been overturned, but Russell scuttled plans for a retrial when he dismissed the charges with prejudice.
Annappareddy's lawyers argued that prosecutors had intentionally destroyed evidence while a motion for a new trial was pending. Prosecutors responded that defense lawyers had numerous opportunities to review and copy the files before they were destroyed. They also said they believed they had permission to destroy the documents, contained in four boxes.
Russell expressed frustration that the files had been destroyed. "I don't understand why during the pendency of a motion for new trial evidence isn't preserved," he said.
The defense lawyers also argued that prosecutors presented false evidence and arguments about Annappareddy's failure to respond to an email, without pointing out that Annappareddy had responded with a phone call. Prosecutors said they didn't have the phone records because they subpoenaed the wrong service provider.
Russell also found that prosecutors did not give to the defense an opinion by an expert witness who calculated the loss to the government at a lower amount than that of a government auditor.
====================================================================
Empower Texans Escalates Battle With Ethics Commission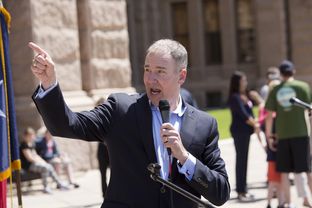 The influential conservative group Empower Texans is escalating its long-running battle against the Texas Ethics Commission, accusing a former member of the state watchdog agency of improperly seeking to influence state legislation.
Empower Texans President Michael Quinn Sullivan on Thursday lodged a criminal complaint against Tom Harrison, who abruptly resigned in June as the commission's vice chairman. The complaint, filed with the Travis County district attorney's office, alleges that Harrison illegally gave gifts to lawmakers in his role as deputy director of the Texas County and District Retirement System, one of the state's largest pension funds.
Sullivan says that activity should have required Harrison to register with the state as a lobbyist. And even if Harrison did register, he still would have been in violation of another rule saying lobbyists cannot serve on the ethics commission.
"For more than a decade, an appointed member of the Texas Ethics Commission issued fines and promulgated rules designed to silence citizens while lavishing legislative offices with gifts on behalf of his 'day job,'" Sullivan wrote Thursday morning on the Empower Texans website. "That's illegal, on multiple fronts, and for it Tom Harrison should be held accountable."
Reached Thursday afternoon, Harrison said he was still reviewing the complaint but denied any wrongdoing.
Empower Texans officials are using the complaint to renew their criticism of Texas' ethics regulators, who have repeatedly clashed with the group over the years, as corrupt and hypocritical. Sullivan argued Thursday, for example, that Harrison has signed on to a commission opinion tightening lobbyist registration requirements but has allegedly failed to follow the same kinds of rules himself.
Sullivan has faced his own questions about whether he should be required to register as a lobbyist for his actions on behalf of Empower Texans. The ethics commission
ruled
in 2014 that Sullivan acted as unregistered lobbyist in 2010 and 2011 and fined him $10,000, a decision he has since been fighting in the courts.
Harrison, who was originally appointed by Senate Democrats in 2004, has previously been in the crosshairs of conservative groups who believe he overstayed his time on the commission. Before he stepped down, he was one of four commissioners — half the panel — who were holdovers because their terms expired without state leaders immediately moving to replace them.
Empower Texans and other conservative groups have long wrangled with the eight member commission, which has been investigating Empower Texans' political activity since 2012. Empower Texans is set up as a
501 (c)(4) nonprofit, which lets it make independent expenditures without being required to disclose donors.
On Tuesday, the group got some good news when the office of Attorney General
Ken Paxton
, which is representing the commission, effectively ended its pursuit of subpoenas in the investigation. The ethics commission, however,
told
the San Antonio Express-News it is not letting up on its probe of Empower Texans and Sullivan.
Read more of the Tribune's related coverage:
=====================================================
Donald Trump's Campaign Stands By Embrace of Putin
By JONATHAN MARTIN and AMY CHOZICK
The signals of preference for the leadership of an adversary over that of the president came despite criticism from Democrats and discomfort among Republicans.
=======================================================