Trump said not to be worried about Oprah possibly running in 2020. Claims she's an over rated loser with little governmental experience. Plus she's a little over weight.
===================================================
On Wednedays my housekeeper sometimes brings over my youngest and favorite model who has become my friend. One that I can easily afford. She shoots for fruit.
===================================================
===================================================
I recently discussed
an ethics complaint by law professors against presidential aide Kellyanne Conway
that I viewed as facially political in character and lacking a substantive foundation. (Of course, this was before
the "Couchgate" scandal
) My reaction to a
new proposed first amendment lawsuit by news media
is little better. Democratic U.S. Rep. Carolyn Maloney and first amendment advocated joined in condemning the Trump Administration's exclusion of some new organizations from a White House press briefing. I share their view that the exclusion was wrong and, with the recent attacks on the media by President Trump, contradict our core values as a nation that values the freedom of the press. However, I do not see a credible constitutional claim brought under the threatened lawsuit.
===================================================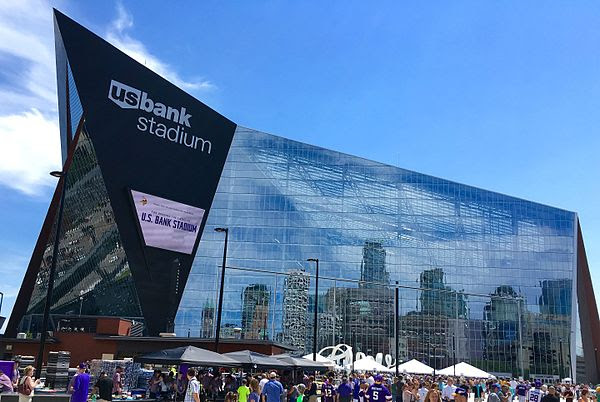 The new Vikings stadium has yet to prove a killer for NFL rivals but it is certainly racking up bird kills according to the Audubon Society and other environmental groups. That modern glass exterior appears to be killing an alarming number of birds and
groups are complaining that the stadium is continuing to "study"
the problem while the dead birds mount. This stadium seems truly star-crossed. We
recently discussed how the stadium has been found to be hazardous to hearing.
Read more of this post



===================================================
I
recently discussed the ethics complaint filed against Presidential Advisor Kellyanne Conway
by 15 ethics law professors. For full disclosure, Conway is one of my former students at George Washington University Law School (she graduated in 1995). I criticized the complaint as highly political with little foundation. The only aspect of the complaint that was not frivolous was the allegation that Conway violated the federal rule against endorsing commercial products in light of her comments about Ivanka's line of clothing and jewelry.
As I stated
, Conway did violate the rule though I viewed the violation as part of a tongue-in-cheek retort to the controversy. It still warranted a formal reprimand in my view but not an ethics charge or more serious action. The White House appears to have reached essentially the same conclusion though there is no indication of a formal reprimand as opposed to a public confirmation that Conway has been "counseled" and will not commit such a violation again.
===================================================
Las Vegas judge banned from bench after handcuffing public defender
Ousted Las Vegas Justice of the Peace Conrad Hafen will never again serve as a judge in Nevada, according to the state's Commission on Judicial Discipline.
Hafen also agreed to public censure and admitted that he violated judicial canons, according to the resolution posted online Monday as the result of four complaints filed with the commission.
Bakhtary was left to sit silently in the courtroom for about three minutes while her client was sent to jail for six months on a larceny charge. Hafen should have allowed the defendant or his lawyer to be heard, according to the resolution the former judge reached with the commission
The commission pointed to three other incidents prior to Bakhtary being handcuffed:
■ In December 2014, Hafen failed to file an order of contempt against a defendant given 50 days in jail for disruption in the courtroom.
■ A year later, Hafen failed to file a similar order for a man sent to jail for 10 days while he tried to represent himself at trial.
■ In April 2016, Hafen sentenced a woman to 25 days after she "started screaming and yelling" at the judge, and he again failed to file a contempt order.
===================================================
===================================================
Azriel
===================================================
===================================================
===================================================
===================================================
Feb 28, 2017, 4:49 pm CST
===================================================


===================================================
===================================================
===================================================