Society can't always be right! Societal pressures caused me to do something with an electric razor just now that I just don't want to talk about.
It's official. Fact checkers have determined that Trump's vocabulary consists of only 11 words. Winning bigley!
It's also been determined that he ran for President in hopes of giving himself a pardon.
If you are like me, it's great comfort that Russia says there is nothing to see here. Go home.
Trump is willing to criticize and demean ANY person, ANY country....EXCEPT Russia and Russians. What's up with that?
Wow. I had a Sunday afternoon like a normal grandfather like person with noisy, energetic young people everywhere... in my non-child proof house. Now I'm picking up remnants of Cheetos and assessing damage.
Attitude. My phone just had the audacity to inform me, without me asking, that I walked 9 miles last week and that I should do more next week. Not sure it knows who is boss around here.
===================================================
While the United States government often discusses the threat of Iran in spreading Islamic extremism, it is often silent on the same influence of our close allies in Saudi Arabia, Pakistan, and other countries. Pakistan is reportedly move to eviscerate any remaining separation of mosque and state buy making Quran education compulsory in not just public but private schools.
===================================================
Below is my recent column in
The Hill Newspaper
on the increased U.S. involvement in the fighting in Syria and Yemen. As usual, there is little concern (beyond Sen. Rand Paul) over the sending of troops into foreign conflicts without congressional approval or anything resembling a specific declaration of war.



























===================================================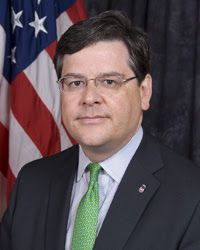 In Kentucky, United States District Court Judge David J. Hale has
ruled that President Donald Trump's statements at a campaign rally
could be viewed as incitement to violence. At a March 2016 rally, Trump told supporters to :get 'em out of here" in reference to protesters. Supporters proceeded to assault protesters Henry Brousseau, Kashiya Nwanguma, and Molly Shah who filed this action. Hale rejected the claims that the lawsuit violates President Trump's free speech protections. They are suing for incitement to riot, vicarious liability, and negligence.
===================================================
===================================================
===================================================
Houston Surgeon Wins $6.3M Defamation Verdict Against Hospital
John Council
, Texas Lawyer
A Houston surgeon has won a $6.3 million verdict from a state court jury using documents Texas plaintiffs rarely have access to—medical peer review evidence.
Dr. Miguel Gomez is a cardiothoracic surgeon who pioneered a type of robotic-assisted open heart surgery at Memorial Hermann Hospital System that greatly reduced a patient's recovery time. When Gomez made moves to relocate his practice to another hospital, he alleged officials at Memorial Hermann conducted a "whisper campaign" against him and manipulated data making it appear that patients were more likely to die in Gomez's care.
Gomez sued Memorial Hermann Hospital in 2012 for defamation and business disparagement. He alleged that a medical peer review committee had determined the data hospital officials had compiled against him could not be relied on and that the defendants continued to disseminate the manipulated data, which ruined his status as one of Houston's most sought-after surgeons.
Memorial Hermann denied the allegations and fought Gomez's attempts to gain access to medical peer review documents related to his case all the way to the Texas Supreme Court. The Texas Occupations Code prohibits access to medical peer documents so hospitals can confidentially review a doctors' performance to improve safety and patient care. But the law provides an exemption if a plaintiff can prove the documents are relevant to an "anti-competitive" action or a civil rights violation.
The hospital maintained the records were related to patient safety and should not be released. But in 2015, the Texas Supreme Court ruled that Gomez could have access to 330 peer review documents because they were related to an anti-competitive action.
Gomez's attorney Mike Doyle said those document made all the difference in convincing a Harris County district court jury on March 29 to award Gomez $6.3 million in damages. The jury also determined that the hospital conspired to wreck Gomez's medical practice and published defamatory statements intended to harm his reputation.
"They first took a shot at him by trying take away his hospital privileges through with peer review," Doyle said. "When that didn't work they used this distorted data to attack him
—
they said look at this data that shows that he's killing people,'' Doyle said.
But after getting a looking at the documents, the jury saw there was more to the hospital's peer review document than patient safety, Doyle said.
"The internal documents undercut their claims that they were focused on safety rather than business," Doyle said.
Memorial Hermann released a statement noting that it was disappointed in the jury's verdict.
"At trial, Dr. Gomez questioned the system's quality review process, expressing concerns that he was unfairly targeted because his mortality data was misleading and made him look bad," according to the statement. "However, our focus on quality data has never been about singling out one specific physician or physicians; rather we rely on that data to form the basis for our process, the same process widely accepted and utilized nationwide, to evaluate and improve the quality of care provided by our physicians and hospitals."
====================================================================