Trump signs emergency proclamation finally ordering that all Obama confiscated guns be immediately returned from the swamp. Making America soooo great.
To all my friends' children who are or will try to sell me something. I'll give you $25 if you don't.
Anti-Trump people should be ashamed of themselves for not throwing a big parade when Trump fulfilled his promise to end ISIS within his first 30 days!
Today I was sitting atop a free wall being thankful for the day one end of Obamacare, and the end of ISIS a couple of months ago by a man that knows more than the generals. Now it's time to go grab something on the golf course with my little hands. #MericaGetsSwampierEveryDay
===================================================
Me, at the office.
=========================================================
Help a guy out. Visit GoFundHisRazorBladesDotCom
==========================================================
Sarcastic Zen Sayings You Need In Your Life
Before you criticize someone, you should walk a mile in their shoes. That way, when you criticize them, you're a mile away and you have their shoes.
The journey of a thousand miles begins with a broken fan belt and leaky tire.
It's always darkest before dawn. So if you're going to steal your neighbor's newspaper, that's the time to do it.
Always remember that you're unique, just like everyone else…
If at first you don't succeed, skydiving is not for you.
Give a man a fish and he will eat for a day. Teach him how to fish, and he will sit in a boat and drink beer all day.
==========================================================
===================================================


These unemployed people can't reconcile alternative facts tweets of our President.

---
BREAKING NEWS
Houston hospital to lay off all staff
In a letter sent
Friday
to the Texas Workforce Commission, the hospital CEO cited "a strategic decision to consolidate its Houston Integrated Market operations" and wrote that "all positions at the hospital will be eliminated."
Read more
===================================================
Throwing a threat on something doesn't make it real.
If the awesome power of the state doesn't terrify innocent people into doing the bidding of prosecutors, perhaps they could consider explicitly threatening innocent witnesses to get their way?
To most that would be a bridge too far, but to the folks working in the New Orleans District Attorney's Office, adding that additional layer of fright to the proceedings is part of the fun. Last week, the Lens reported that the D.A.'s Office maintained a practice of
issuing "fake subpoenas"
in a naked effort to coerce cooperation.
When confronted with the fact that the prosecutors did not, in fact, have any authority to threaten to jail people for failing to serve the Office's every whim and that the practice is unethical if not illegal, they proudly adopted the time-honored stance of blaming the victims. Which is actually par for the course for them: this is the same office that issues
arrest warrants for the victims of crimes
if they aren't sufficiently cooperative with the investigation.
Letters, phone calls, and visits from representatives of the New Orleans District Attorney's Office were apparently not doing enough to put the fear of Leon Cannizzaro into witnesses, possible witnesses, and people the DA believed might possibly know something about anything.

So, the office began issuing special notices to those they wanted to invite for a chat. Instead of something like, "The District Attorney of the Parish of Orleans requests the honor of your presence," the DA's invitation committee went with: "SUBPOENA: A FINE AND IMPRISONMENT MAY BE IMPOSED FOR FAILURE TO OBEY THIS NOTICE."
Except it was not (a) a subpoena, (b) carried with it no risk of fine or imprisonment, and (c) recipients were entirely free to disobey the notice.
Other than that though…
"There's no question this is improper," said Pace University law professor Bennett Gershman, a former prosecutor in New York City and an expert in prosecutorial misconduct.

"Clearly, it's unethical because the prosecutor is engaging in fraudulent conduct," he said.

Colin Reingold, an attorney with Orleans Public Defenders, said the practice "borders on fraud or forgery, and certainly I see ethical problems with compelling someone to come in under false pretenses."
In an interview with The Lens, however, the D.A.'s office decided to take a page out of the Sean Spicer handbook and double down on the indefensible:
Assistant District Attorney Chris Bowman, who serves as Cannizzaro's spokesman, defended the use of the documents, which he called "notifications" or "notices."

"The district attorney does not see any legal issues with respect to this policy," he said.

Cannizzaro's office deals with "an extraordinary number of cases," he said, including many in which potentially crucial witnesses are reluctant to talk.

"Maybe in some places if you send a letter on the DA's letterhead that says, 'You need to come in and talk to us,'… that is sufficient. It isn't here," he said. "That is why that looks as formal as it does."
This is the troubling insight into prosecutorial groupthink that gets exposed in a story like this. When confronted with the minor obstacle of witnesses exercising their basic freedom to not speak the logical next step is to just lie about their power to punish non-compliance.
Many prosecutors are great people — I've known and worked with several at various stages of the government-to-white-collar-defense revolving door — trying to do the right thing. But that's the danger when any institution vested with tremendous resources and a sense of moral superiority starts rolling down a slippery slope. The Stanford Prison Experiment is just an extreme example of what good people can overlook when they think it's their job. Good people can truly become unwitting awful people with enough authority and sense of entitlement.
That's how stuff like "fake subpoenas" not only happen, but get normalized to the extent that no one on the inside even sees the problem.
In the aftermath of this report, the Orleans Parish D.A.'s Office has announced that they will end this practice, which is the right result, but that it wasn't their first response to criticism is the real problem.
In the Lens interview, Bowman dropped the most-telling quote:
"It's no different than if we just put a letter out on our letterhead," Bowman said.
Except… he already admitted that they only do this because receiving a letter isn't "sufficient" in New Orleans. That aside, this quote is kind of true. To the average person, a letter from a prosecutor demanding to talk to them does carry with it all the weight of a legal threat. Especially when the letter includes all the typical lawyerly bluster.
And yet, the fact that a prosecutor would admit that they see a formal threat of "fine and imprisonment" as no different than their standard letterhead says a lot about the culture of that office.
===================================================
===================================================
===================================================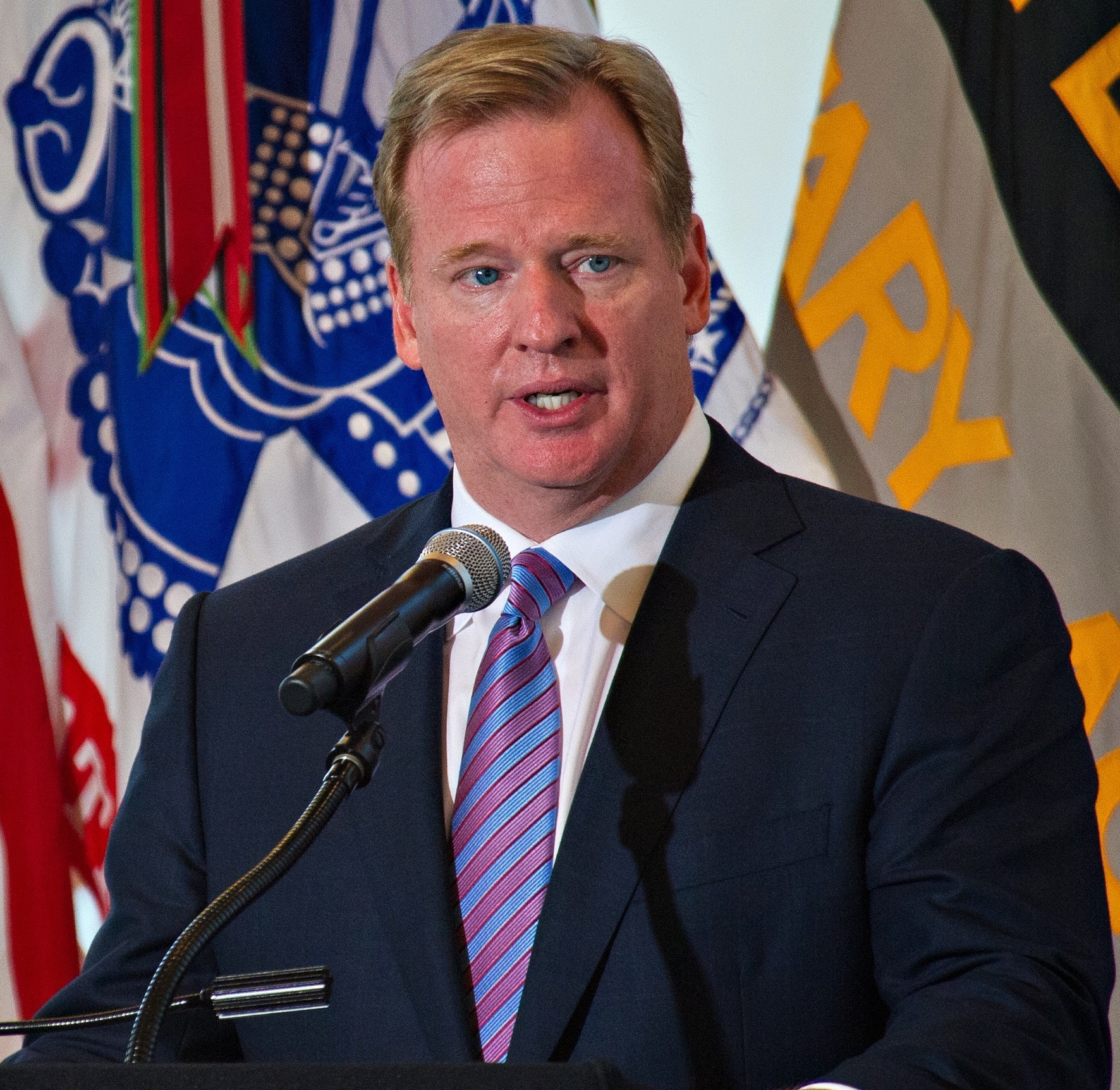 As we have discussed, NFL Commissioner Roger Goodell is the least popular commissioner in the history of the NFL . . . for good reason. Of course, the mere fact that
fans boo Goodell where ever he appears
from the NFL draft to a funeral, the owners do not care because they relish the very things that Goodell stands for like putting profits over any concern for the health of players or the interests of fans. Goodell has been widely denounced for his
alleged covering up of the dangers of concussions
until there was no way to avoid addressing the serious medical problem facing players. He is also responsible for contracts that routinely ripped off fans like his recurring contracts with DishTV that requires fans to hand over their cable contracts at ridiculous prices if they want to watch their teams play (a
contract denounced by consumer advocates
). Then he was widely criticized for his
own obscene salary
,
shaking down artists
, and
corrupt contracts and demands from cities who might want to host the Superbowl
. In other words, he is the last person on this planet (with the possible exception of Kim Jong-un) who should be holding forth on healthy living tips. Nevertheless, Goodell declared this week that, even in states where marijuana use is legal, he will continue to ban it because it is not a healthy choice for players. He said that he is willing to study the possible medical benefits of pot.
===================================================



===================================================
Apr 28, 2017, 3:03 pm CDT
===================================================



After an afternoon of shooting,
Liz P Ashley
took a selfie of us. Seriously, who do you think has the prettier eyes? The guy with the cataracts or Liz?
===================================================
U.S. Rep. Joaquin Castro, D-San Antonio, has decided not to challenge U.S. Sen. Ted Cruz, R-Texas, in 2018.
===================================================
===================================================
Ariana M. v. Humana Health Plan of Texas, Inc. No. 16-20174
Before PRADO, HIGGINSON, and COSTA, Circuit Judges.
AFFIRMED. (April 21, 2017).
Judge COSTA, joined by Judges PRADO and HIGGINSON, specially concurred.
Posted in ERISA, Insurance
Ariana M. is a dependent eligible for benefits under a group health plan insured and administered by Humana Health Plan of Texas. The Plan's benefits include coverage for partial hospitalization for mental health treatment. However, benefits are payable only for treatments that are "medically necessary." Ariana has a long history of mental illness, eating disorders, and engaging in self-harm. She was admitted to Avalon Hills's intensive partial hospitalization program. Humana initially found the treatment medically necessary and approved partial hospitalization but later denied it upon finding that it was no longer medically necessary. In making its determination, Humana asked two doctors to review Ariana's medical treatment, using the Mihalik criteria, a privately licensed review criteria. Ariana sued and the District Court ultimately granted summary judgment in favor of Humana. In appealing, Ariana argued that the District Court erred by applying an abuse of discretion, rather than a de novo, standard to assess Humana's factual determinations. Rejecting her argument, the Fifth Circuit, in reliance on Pierre v. Connecticut General Life Insurance Co./Life Insurance Co. of North America, 932 F.2d 1552 (5th Cir. 1991), finds no error in the District Court's application of an abuse of discretion, rather than a de novo, standard to assess Humana's factual determinations. The Court goes on to reject Ariana's argument that the District Court erred in granting Humana summary judgment. The Court reasons that Humana did not err by using the Mihalik criteria to assess medical necessity, nor did not abuse its discretion in resolving that her continued partial hospitalization was no longer medically necessary. The Court explains that it was not unreasonable on this record to conclude that Ariana could be treated with a less costly, equally effective outpatient treatment. A special concurrence makes a compelling case for a reexamination of Pierre.
On Appeal from the United States District Court for the Southern District of Texas (Lee H. Rosenthal).
Attorney for Appellant - Amar B. Raval, Houston, TX
Attorney for Appellee - Carlos Ramon Soltero, Austin, TX
===================================================

Liz
===================================================
President Donald Trump made a rather curious statement

on Monday
about the Civil War that had people either confused or enraged. In an interview with the Washington Examiner's Salena Zico, Trump said that the Civil War was avoidable and could have been prevent if President Andrew Jackson had lived a bit longer. He insisted "There's no reason for this." Many people have noted that there were millions of reasons in the form of enslaved blacks and Jackson was hardly the man to call when the question of slavery was raised.
===================================================
By NICHOLAS FANDOS
The additional funding, part of a spending deal that could pass this week, reflects the extraordinary costs associated with the family's lifestyle.
===================================================
Art Law May Be the Next Big Thing in Texas
Brenda Sapino Jeffreys
, Texas Lawyer
Art law is in vogue.
More and more law firms across the country are launching art law practice groups, and lawyers who specialize in areas that range from litigation to finance are adding some color to their careers by taking advantage of opportunities in the growing practice of art law.
Dallas, in particular, has seen growth in the legal market involving art. Locke Lord established an
art law
practice group about a year ago, and Thomas Maddrey, a photographer-turned-lawyer, opened a
small firm
in late 2015 that counts art law as one of its main practice areas. Other Texas firms that have art law practices include Thompson & Knight and Andrews Kurth Kenyon.
But Texas is hardly alone.
"It is certainly a formalized and well-settled practice in Los Angeles and New York City," said Michael Heinlen, a
partner
at Thompson & Knight in Dallas who is in the firm's art law section.
Indeed, law firms in the nation's major art markets have had done art law for years. But in Dallas, the practice area now appears to be taking off. "The entertainment and sports section of the Dallas Bar recently became the entertainment, art and sports section of the Dallas Bar," Heinlen said.
Stuart Bumpas, a Locke Lord partner in Dallas who heads the firm's art law practice, agrees. "It's a burgeoning field," he said "More and more people are not only collecting, but they are investing in art, and they need advice."
Bumpas has handled legal work for the Dallas Museum of Art for 40 years and has had clients in the art world since shortly after he joined Locke Lord in 1974. But the firm saw a steady increase in the amount of art-related work coming its way, prompting the Dallas-based firm to launch an art law practice in early 2016.
"The reason we established the art law group was to...serve the more unique needs of the art industry," Bumpas said.
Other firms, including several in Texas, have become savvy about the need for more lawyers serving the art world. More of their clients are enormously interested in art—either for investment purposes or for its esthetic—so the firms are formally establishing or expanding their art law practices, he said.
Art law incorporates lawyers from many practices. Bumpas's specialty is tax law, but others in his firm's art law practice include lawyers who specialize in not-for-profit governance, intellectual property, estate planning, financial transactions and litigation. The clients are also varied, and include museums, universities and other cultural institutions, financial institutions, galleries, foundations and art collectors.
When Bumpas started organizing Locke Lord's art law group, there was a great deal of interest throughout the firm. The 25 members of the group practice are based in a variety of locations, including Dallas, New York, Boston, Austin, New Orleans and London.
The type of work performed by lawyers doing art law also varies. Locke Lord has represented major financial institutions that provide loans to high-net worth individuals that are secured by art collections. Lawyers at the firm also handle litigation. Bumpas and a partner are currently working on a lawsuit that involves a significant donation of Impressionist and other art to a museum.
Lawyers also have negotiated lines of credit for art purchases. At Locke Lord, they have worked with a university on the donation of rare materials from the Bauhaus Movement in Germany, and they represent the Affordable Art Fair New York City­—a citywide art fair for "starving artists." Bumpas is also working with a major art auction house on a series of webinars that will be produced later this year.
Thomas Kline, who spent many years building an art law practice at Andrews Kurth, (now Andrews Kurth Kenyon), said an art law practice fits well in a big firm with wealthy clients.
"It is a specialty that can be marketed to firm clients, particularly to high-net worth clients," said Kline, who is now a partner at Cultural Heritage Partners in Washington, D.C.—a firm that specializes in legal issues surrounding historic preservation, art and antiquities. "Traditionally collectors have not worked closely enough with lawyers in building their collections or maintaining them, so they often have problems they are not aware of."
Many lawyers who do a lot of art law say they got into it by happenstance. Joe Patella was an associate with Andrews Kurth Kenyon in New York when he started helping Kline with an art-related lawsuit in New York. Patella said Kline became a mentor, and he continues to do art law.
Patella, now a
partner
, said Andrews Kurth represents auction houses, museums, galleries, individual collectors and even foreign governments. He recently helped the owner of a San Francisco gallery recover a Buddha statue that was stolen from his gallery more than two decades ago. In addition, he represented an auction house that was accused of fraud by a collector who bought a painting at auction and discovered many years later it was a fake. Patella won a motion for summary judgment for his client in that case.
It's not surprising there's a lot of litigation stemming from art purchases, Patella said. "When someone is making a transaction for a million [dollars] at a corporate level, there's going to be reams and reams of paper. For the same amount...it could be a single slip of paper—an invoice—for art."
Thompson & Knight's Heinlen said collectors are also realizing more and more that they should consult lawyers. "These are people who spend literally millions of dollars on a handshake," he said. "That is starting to change, but historically there have been no contracts in the art market."
Kline said that during his 28 years at Andrews Kurth, he made an effort to build up a practice in art law litigation because of his interest in art and because the suits are fascinating. His first two clients were churches trying to retrieve stolen religious objects, he said. In one case, which became the subject of a documentary called
The Liberators
, he represented a church in Quedlinburg, Germany, and helped it recover medieval religious artifacts stolen by a U.S. Army officer who had mailed the artifacts home to Texas after World War II.
But not all art-related lawsuits make good fodder for filmmakers. Joe Sirven, a
partner
with Holland & Knight in Miami, does art lending. He represents lenders, mostly based in New York, who provide loans collateralized with art collections. He said most of the loans are in the $30 million to $50 million dollar range, but he worked on one valued at more than half a billion dollars. He is not at liberty to discuss 99 percent of those loans, he said, but he noted that one loan, issued around 2010, financed a luxury condominium project.
Sarah Hewitt, a New York and Philadelphia-based partner at Schnader Harrison Segal & Lewis and
co-chair
of the firm's art law practice group, said she does a lot of lending that is secured by fine art, although the firm also does art law litigation. "As the art market exploded, so did the finance area on modern and contemporary art in particular," she said, explaining that her clients lend to collectors and galleries who are trying to leverage their investments.
For all the variety that exists in the practice of art law, there appears to be one constant: Lawyers who do art law either have a longtime interest in art or they develop one. Heinlen is a former art history professor. Kline was exposed to art from an early age, as his late mother, Harriet Kline, was a sculptor and painter known for using shredded U.S. currency in her work. Hewitt minored in art history in college and always wanted to work in the art world. Maddrey worked as a commercial photographer for 10 years before going to law school—a career that inspired him to help artists and photographers protect their copyrights.
Then there's Bumpas, the tax lawyer, who said art law got into his blood after he started working as outside counsel for the Dallas Museum of Art many years ago. He has become an art museum devotee who has a preference for the Old Masters but also enjoys contemporary and Impressionist art. He admittedly spends a lot of his time in art museums.
"The Reina Sofia in Madrid is my favorite," he said. "I also love the Louvre, and Prado and The Met in New York."
===================================================
===================================================
===================================================
===================================================
===================================================
===================================================
===================================================
===================================================
May 1, 2017, 12:34 pm CDT
===================================================